Empowering Minds™ is proud to be presenting the Live & Unsigned All-Star Competition - showcasing
Alberta's top youth talent in a special singer/songwriter edition on November 18th, 2023 at the fabulous
Bella Concert Hall at Mount Royal University. We are looking for silent auction items, sponsors, and attendees for this year's event. We are excited about the exposure opportunities for donors and the chance for our community to get involved in a great cause.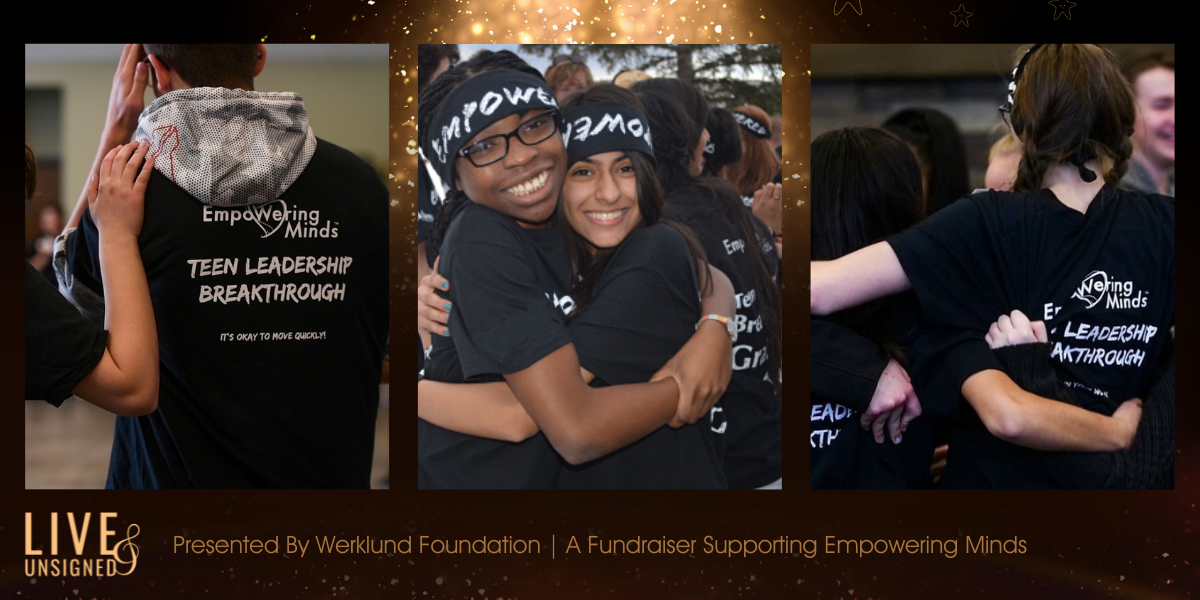 Empowering Minds™ is a youth focused charity that has helped thousands of youths in our community.
We provide world-class instruction and a leadership experience over a 2.5 day camp called the Teen
Leadership Breakthrough program. A University of Calgary 6-month impact study on the Teen
Leadership Breakthrough program indicated that the students were more resilient in their family, school,
and personal lives and that the changes to the youth were long-term. We recently launched a new
offering called the STEP Youth Discovery Program. This proven program with a youth Emergenetics
Report, is an exciting way to integrate how students prefer to learn and how teachers can facilitate an
educational environment that enhances, deepens, and provides authentic learning experiences for all.
We are a registered public charity, relying on the support from schools, the community, volunteers,
donors and sponsors.

We know we make a difference to youth in our community and we are passionate about the Teen Leadership
Breakthrough program. We deliver world class leadership training to youth in our province and
we want to continue our great work! If YOU are also passionate about making a difference in the lives of
the leaders of tomorrow, please contact Alexis Paproski to donate an item for our silent auction:

Live & Unsigned isn't your typical talent contest. We feature TOP TEN high-caliber performances from
youth contestants who have auditioned from across the province to secure their spot in the show.
Prizes are awarded for 1st, 2nd and 3rd as judged and voted for by the audience. Past winners of our
show have gone on to the CBC Searchlight Competition, Canada Day Performances, Record Albums, Sing for the Shot, and Music Mile Performances in Inglewood to name a few.

A cocktail reception and an exceptional silent auction starts at 6:00 p.m on November 18, 2023 and is followed by performances from our Top 10 acts at 7:30 p.m. Your generous auction donation will be featured through the reception and the intermission.

please complete the form below to submit a donation to the Live and Unsigned 2023 Silent Auction
(c) 2022 Empowering Minds / Live and Unsigned All rights reserved